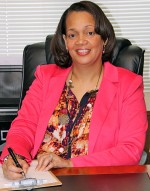 Ms. Janice C. Lebron has over 14 years of experience in the field of Counseling. Throughout her career, she has worked with adolescents, children, geriatric population, families, the Mentally Challenged and dual diagnosis clients in residential settings. Additionally, she has provided up and coming counselors with supervision toward their Licensed Professional Counselor certification. She has also worked with special populations such as adolescent, and adult male S. O.'s, and the domestically violent.  Ms Lebron is a Licensed Profession Counselor (LPC) and Certified S.O. Provider (CSOTP).  Her vast experience has taken her to various environments and settings such as privately owned mental health facilities, local drug treatment facility, local private practices, and state level psychiatric facilities.
Ms. Lebron assists her clients in developing  positive self-esteem, effective problem solving skills, positive self-talk, etc., and increasing their personal knowledge base.  She specializes in helping clients to work through adjustment and emotional issues, accepting responsibility for their actions, effectively addressing and resolving relationships difficulties, and navigating other personal challenges.  Additionally, Ms. Lebron actively counsels her clients on how to manage aggressive behaviors, and etc., in order to lead a productive and meaningful life.
As a United States Air Force Veteran, Ms. Lebron is a therapist that is sensitive to the needs of the military community.  She continues to serve this specialized population as a civilian in the field of counseling at her private practice.  Her military experience has given her a firm understanding of the daily challenges active duty military and their families endure on a daily basis.
The Director's Education
Bachelor's Degree in Psychology
Master's Degree in Community Clinical Psychology
Licensure and Certification
Licensed Professional Counselor (LPC) by the Commonwealth of Virginia Board for Health Professionals.
Certified Sexual Offender Provider (CSOTP) by the Commonwealth of Virginia Board for Health Professionals.
Nationally Certified Counselor (NCC) by National Board for Certified Counselors, Inc.
Certified Train the Trainer by the Professional Women's Network (PWN)
Board Certified Coach (BCC) by The Institute for Life Coach Training (ILCT)